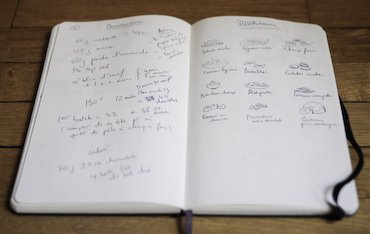 In my Best of 2011 post earlier this month, I hinted at the new book I'm working on, and after receiving several kind requests for details, I thought I'd tell you a little more about the project.
The general idea of the book is to talk about the love affair between French cuisine and vegetables.
It is admittedly a challenge to dine out as a vegetarian in France, where meat and fish are treated as the main character of any special-occasion dish, yet the French culinary repertoire is rife with delicious ideas on how to cook vegetables.
It seems to me that when cooks try to shift their habits to use fewer animal products, French cuisine is not the one they turn to spontaneously, so it is a source of inspiration that is vastly untapped.
Over the past few years, as has no doubt been apparent on C&Z, Maxence and I have transitioned to a more and more plant-based way of eating — for reasons of ethics, environmental concern, and natural inclination — so I've had plenty of opportunities to explore unusual and exciting ways to use up my weekly selection of seasonal vegetables.
It is the best of those colorful, seasonal dishes that I want to share in this new book. Some are personal creations, others are drawn from my research into lesser-known regional cuisines. All are simple and flavorsome, so you can make the most of the time you spend in the kitchen.
My goal, in this book as on the blog, is to teach and inspire, so each of the recipes is meant to leave you not just with a wonderful dish to share with your friends, but also with a trick, a technique, a building block that you can adopt and use elsewhere in your cooking.
I am working with a stylist and a photographer for the food shots — we are shooting the dishes in season, so we've already completed the spring, summer, and fall chapters — and I'm delighted to have hired the same team that Alain Ducasse did for his best-selling Nature cookbook. The book will also have photos of Paris street and market scenes, which I've entrusted to the talented Emilie Guelpa. (More details about the photography.)
I am very excited about the work we've all done so far, and equally impatient to share it with you. The book will be published in English by Clarkson Potter and is scheduled for North-American release in the spring of 2013. Translated editions will come later if all goes well; I'm keeping my fingers crossed that we can publish a French version.
In the meantime, I have two months left to complete the first draft of the manuscript, and then there will be the back-and-forth editing and revisions, followed by copyediting, book design, indexing, proofing, etc., the lengthy but fascinating process that turns a bunch of files on my computer into an actual book that I hope you'll take pleasure in reading through and cooking from.