The best thing about doing work that you love is that you never have to come home from a vacation feeling down. Instead, you get to sit back down at your desk refreshed, full of energy and ideas, ready to dive back in with renewed focus.
In my case, I am hitting the ground running to work on my new book, tentatively called TASTING PARIS, which will convey the flavors of Paris through one hundred fabulous dishes. I am just finalizing the master list of recipes with my editor, and I am so. excited.
This, however, does not prevent me from still savoring the best moments of our vacation, and I wanted to share the following edibles with you.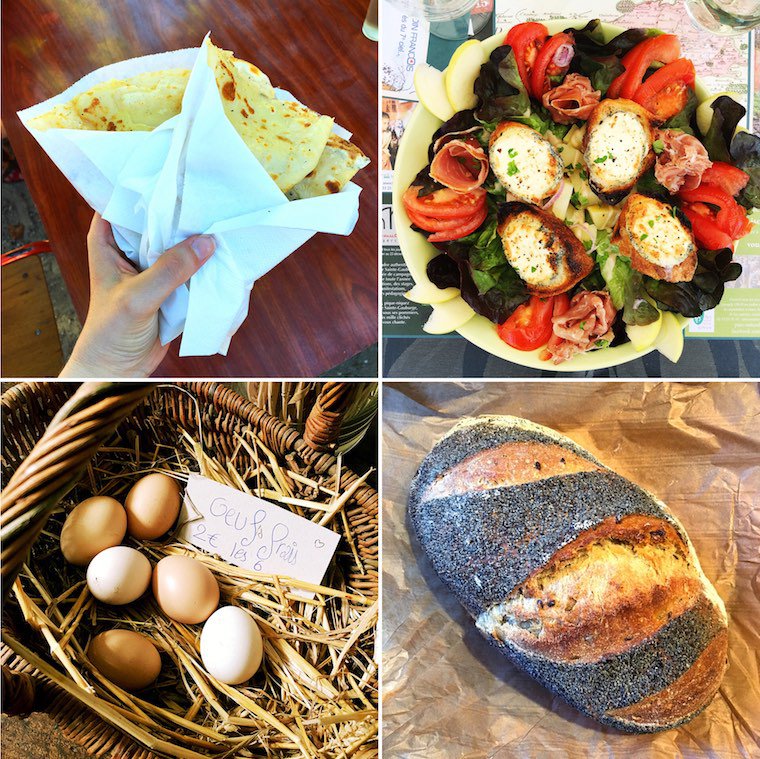 • Amazing crêpes cooked in old-fashioned cast iron pans balanced over a wood fire at a medieval festival in Montmirail in the Perche. We got them sprinkled with sugar — always the best choice in my book — and the lightly smoky flavor was unforgettable. Downed with glasses of caramel pear juice, this was an ideal afternoon treat on a hot, hot summer day. (See also: my French crêpe recipe.)
• The Salade du Parc was the perfect lunch salad to enjoy out in the gardens of the Manoir de Courboyer. Topped with rolls of cured ham and grilled toasts of local goat cheese, it was full-flavored and satisfying. (See also: my happiest salads.)
• We bought these freshly laid eggs at the wonderful countryside restaurant Vincent Cuisinier de Campagne in the heart of the Bourgueil wine country. It's a gorgeous place with a vegetable patch in the back and lots of happy chickens running around. When we cooked the eggs the next day, one had a double yolk. A sign of good luck for sure! (See also: there's many ways to cook an egg.)
• This exquisite little loaf of multi-seed artisan bread is from L'Angenardière, a "boulanger-paysan" operation where they grow their own heritage grain, mill their own flour, and bake their own sourdough bread in a century-old woodfire oven, all on the same farm.
You can buy the bread at the farm on Tuesday and Friday afternoons, or from their stand at the Nogent-Le-Rotrou farmers' market on Saturday mornings. (See also: my multigrain bread recipe.)
Find me on Instagram to see many more food shots and recommendations in Paris and beyond!
Latest Reads
More reading recommendations »
Loving this right now
5 Cool Links
Follow me on Twitter and like the C&Z Page on Facebook for many more links throughout the month!