You know the feeling. This time of year, you're simply dying for a bowl of something warm, comforting, and full of vitality. But as painful experiences may have shown you, good intentions and a throw-whatever-vegetables-you-have-into-the-pot approach doesn't always work so well.
For a simple, clean-out-the-fridge soup, I will point you to my Everything Soup. It's the ultimate guide to soup improv that you can tweak to your heart and fridge's content, with recommendations for optimizing flavor profile, plus must-haves and must-nots.
Once you have these basics down, here are some more tips for fabulous homemade soups, which will turn any pot you make into a seductive winter dish that will have your spoon quivering with excitement.
Stay in season
It's not just about the carbon footprint, the mood of the weather, or the tradition, though of course these things count. It's also that in-season vegetables taste significantly better, and if you want a soup that shines with flavor, you gotta have good vegetables to begin with.
And as luck would have it, winter vegetables are perfect candidates, with their starchy textures and sweet, earthy notes. Can't remember what's in season? I have a free seasonal produce guide for you.
Chunky or smooth?
Whether you are in the mood for a chunky soup or a smooth velouté, make up your mind before you start. This will determine how you cut the vegetables, and the order in which you add them in. If you want it chunky, such as this chunky pumpkin soup, you'll pay more attention to not overcooking any of the vegetables. And if you want an ultra-smooth, restaurant-quality velouté, investing in a high-performance blender such as this one will make all the difference (night and day).
Play with spices and fresh herbs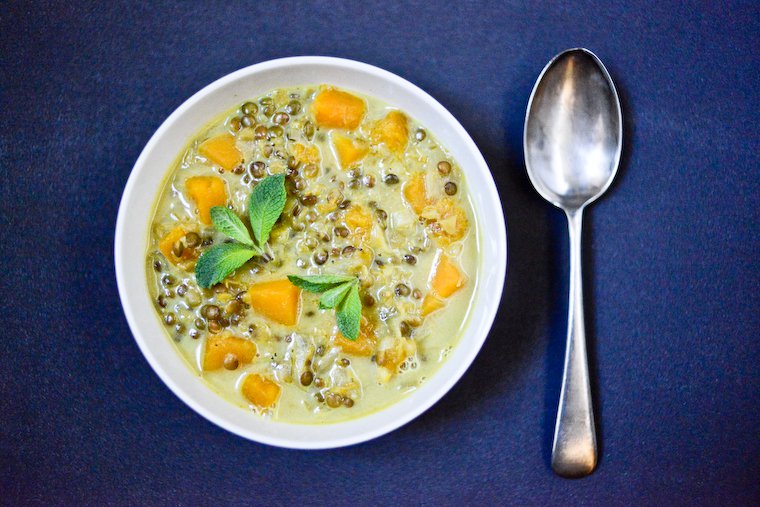 Soups are the perfect opportunity to finally get some mileage out of that spice drawer. Vegetables are such a welcoming canvas, whether you are flavoring them with citrus and spices, turmeric and hazelnuts, or an ayurvedic blend of cumin, coriander, turmeric, and ginger.
Of course, there is nothing wrong with just salt and pepper if that's all you have (sometimes they're all you need!), but this is your chance to kick things up a notch and test out new, interesting flavor combinations.
Make it interactive
I love meals that require some audience participation, whether you invite the eater to drizzle oil or cream, sprinkle things, or stir a condiment right in.
I like using the latter method with my pattypan squash and pesto soup: I just place a bowl of pesto on the table for guests to help themselves, stirring it into the soup and preserving the immediacy and freshness of the pesto.
You can also elevate a simple soup meal with bowls of various soup accoutrements, like almond breadcrumbs, roasted chickpeas, homemade croûtons, crushed spiced almonds… or anything you have on hand that will add texture and flavor to your soup.
Keep it creamy
If you're craving a creamy soup but want a change from dairy (or can't have it), there are options. Instead of adding heavy cream or crème fraîche, try using coconut milk to make the soup silkier, or whip up a quick cashew cream to pour over the top (bonus: it's pretty). You can also use almond meal or nut butters to thicken your soup.
Join the Conversation
What's been your favorite soup combo lately? Any tip you want to share for soup success?