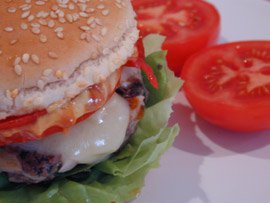 Reading the article on DIY Diner Food over at Digs Magazine put me in the mood for burgers, so that went on the menu for lunch on Sunday.
For the patties, I used 150g (5 1/3 ounces) lean ground beef, in which I mixed a chopped shallot, a large handful of chopped fresh herbs (I had basil and tarragon, both home-grown, as well as flat-leaf parsley), a spoonful of chopped capers, and liberal amounts of ketchup, Worcestershire sauce, Tabasco sauce and black pepper. This I shaped into two patties that were seared in the skillet. After flipping them the first time, I sprinkled salt on them and laid slices of Beaufort on top so they'd have just enough time to melt.
The burgers were then assembled on toasted sesame buns with lettuce leaves, sliced tomatoes, ketchup, and mustard, then served with tomato halves sprinkled with fleur de sel.
Not what I would call a traditional Sunday lunch, but delicious and oh-so-satisfying.