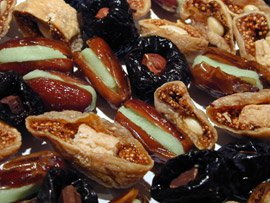 And what are fruits déguisés you ask? Most people would tell you that they are a traditional Christmas confection, in which dried fruits (dates and prunes mostly) have their pit replaced with a piece of brightly colored pâte d'amande (almond paste).
To me however, fruits déguisés are much more than that : they are one of my earliest culinary joys. When I was five, my kindergarten teacher had us make some as a gift for our parents. For the record, that teacher's name was Marguerite and I didn't like her because she felt the need to comment on my thumb sucking, but I digress. I don't remember making the fruits déguisés, but I remember going home and sharing them with my family, and most of all I remember how immensely proud I was when my mother asked me to show her and my sister how to make them.
We bought the supplies, and I glowingly explained how you slit the fruit open carefully, remove the pit, roll a little bit of marzipan between your palms, insert it in place of the pit, and close the fruit on it, leaving it slightly open to show the beautiful dash of color. I emphasized, as the teacher had, how important it is to handle the knife with caution, to make even-sized marzipan pits of alternate colors, and to retribute yourself with the occasional piece of marzipan, in whichever color you like best.
I decided to make fruits déguisés again very recently, and this time improvised on the basic recipe a little : I used figs in addition to prunes and dates, and stuffed them with almond paste, but also hazelnuts, almonds, chocolate squares and little chunks of almond cookie. I then packaged them up, throwing in a few candied kumquats, and gave them as pretty little gifts to my cooking class students.