Tarte fine caramélisée aux pommes
When I wrote about my enthusiasm for quick and easy puff pastry, I promised I would soon share the apple tarte fine I made with it, and that day has come.
A tarte fine — literally, "thin tart" — is a classic type of French tart assembled on a flat disk of puff pastry, with no raised borders. This means it requires no tart pan, a trait that will no doubt appeal to the minimalists and the ill-equipped.
The trick to a perfectly caramelized crust is to butter and sugar the parchment paper you will bake it on.
It is a type of tart I've always thought elegant for its understatedness. The filling is typically made up of just fruit, and moderate amounts of it, so as to remain super thin. And every bite is as much about the crust as it is about the filling, which makes it an ideal opportunity to showcase your new puff-pastry-making skills.

Apple Tarte Fine: a Study in Simplicity
And indeed this recipe is a study in simplicity: a thin round of rough puff that caramelizes in the oven — the trick is to butter and sugar the parchment paper you will bake it on — to form a crisp, flaky, buttery frame for a rose-shaped arrangement of thinly sliced apples.
That's it. Bake and serve.
It does just as well slightly warm or at room temperature, and you could also make it with pears if you wanted to, but the one thing I will advocate for is serving it on its own. No custard, no ice cream, no crème fraîche. Just the solo silhouette of the tarte fine on a plate.
Join the conversation!
Have you made or tasted a tarte fine before? Does the gorgeous simplicity of it appeal to you as much as it does to me?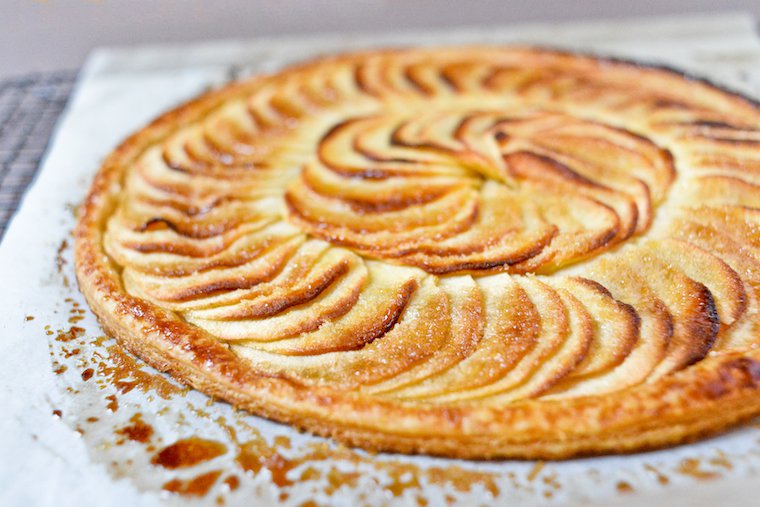 Have you tried this? Share your pics on Instagram!
Please tag your pictures with #cnzrecipes. I'll share my favorites!
Caramelized Apple Tarte Fine Recipe
Ingredients
40 grams (3 tablespoons) high-quality unsalted butter, melted
40 grams (3 tablespoons) blond unrefined cane sugar
1 quick and easy puff pastry (you can substitute a sheet of store-bought, all-butter puff pastry, about 250 grams or 9 ounces, thawed if frozen, but it will be a lot better with the homemade pastry)
3 small apples, about 450 grams (1 pound), peeled, cored, and thinly sliced into circles
1 pinch fine sea salt
Instructions
Preheat the oven to 175°C (350°F).
Line a baking sheet with parchment paper and brush the parchment paper with half the melted butter to form a 25-cm (10-inch) disk shape. Sprinkle that zone with half the sugar.

Roll out the puff pastry on a lightly floured work surface until you can cut out a 25-cm (10-inch) circle using an upturned cake pan or plate as a template. (Stack up the scraps of puff pastry and keep well-wrapped in the fridge to make palmiers.)
Transfer the pastry circle cautiously to the prepared sheet, placing it exactly on top of the buttered and sugared area.
Arrange the apple slices in an overlapping pattern on top of the pastry, starting from the outside and leaving a 1.5-cm (1/2-inch) margin. Brush the margin and the apples with the remaining butter, and sprinkle with a touch of salt.

Insert into the oven and bake for 30 minutes, until the apple slices feel soft when pierced with the tip of a knife.

Sprinkle with the remaining sugar and place under the broiler for 2 minutes, watching closely, until the sugar is caramelized.
Let cool and serve, slightly warm or at room temperature.
Notes
Slicing the apples into circles -- rather than half-moons -- makes it much easier to garnish the tart in a pretty pattern. To do that, you need to first peel the apples, core them with an apple corer, and then slice them crosswise from top to bottom. A mandolin slicer makes this super speedy and even.
https://cnz.to/recipes/cakes-tarts/caramelized-apple-tarte-fine-recipe/
Unless otherwise noted, all recipes are copyright Clotilde Dusoulier.