I fancy myself a seasoned granola maker — see my Basic Granola Formula, my Macadamia Maple Granola, my Raw Buckwheat Granola, and my Savory Granola — but granola bars have long eluded me.
My various attempts over the years have invariably been disappointments, impossible to slice neatly and quickly reduced to a mess of randomly-sized granola clumps. So, for portable snacks, my go-to recipe was the delicious homemade lärabar.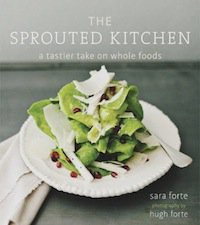 But then some months ago I received a copy of Sara and Hugh Forte's inspiring Sprouted Kitchen cookbook (you know their blog, right?), and among the recipes I was quick to tag (the Honey Mustard Broccoli Salad, the Crunchy Curried Chickpeas, the Corn Cakes with Cherry Compote…) was Sara's formula for Granola Protein Bars, on page 154.
The recipe uses rice syrup, and indeed this sweetener serves as an efficient binder to keep the granola bars from crumbling. It also calls for puffed rice, as a clever way to add crunch to the oats' chew.
The recipe uses rice syrup, which keeps the granola bars from crumbling. It also calls for puffed rice as a clever way to add crunch to the oats' chew.
I have been making these regularly and with great enthusiasm, and I have altered the recipe slightly so I could share with my 14-month-old, who enjoys them at breakfast and can eat them independently: I omit the dried fruits and nuts, skip the protein powder (not a fan), and use half rice syrup and half apple or pear sauce as the sweetener.
And now that the summer travelling season has officially begun, you can't have too many on-the-go treats for road trips, train rides, and mountain hikes. What's your portable snack of choice?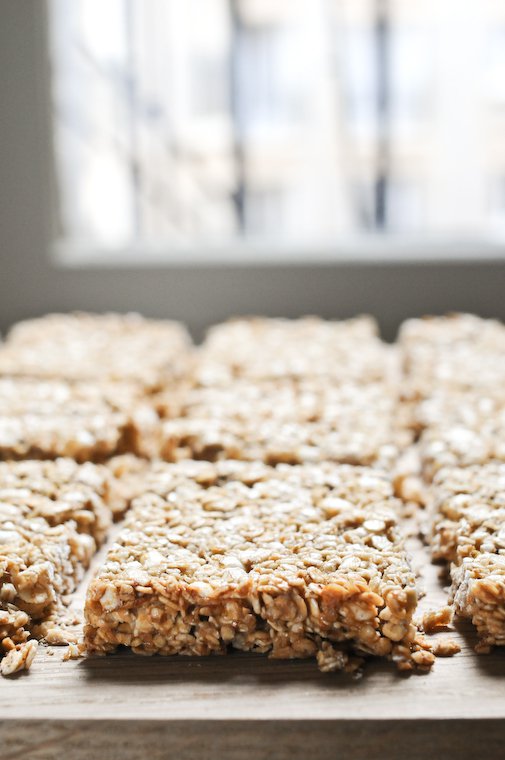 Have you tried this? Share your pics on Instagram!
Please tag your pictures with #cnzrecipes. I'll share my favorites!
Ingredients
130 grams (1 1/4 cups) rolled oats (in France, you have a choice between small and large; I use small for easier cutting)
30 grams (1 cup) puffed brown rice
120 grams (about 1 cup) nuts such as almonds and cashews, slivered or coarsely chopped (I skip those)
140 grams (about 1 cup) dried fruit such as cherries or cranberries or figs, chopped as needed (I skip those)
120 ml (1/2 cup) brown rice syrup (I use half rice syrup and half apple or pear sauce)
1/2 teaspoon ground cinnamon (I use fresh cinnamon from Cinnamon Hill)
2 teaspoons homemade vanilla extract
1/4 teaspoon fine sea salt
Instructions
Preheat the oven to 150°C (300°F) and line a 20-cm (8-inch) square cake pan with parchment paper, leaving an overhang for easy removal. (Note: the cake pan I use is non-stick and has a removable bottom, so I simply grease it.)
Place all the ingredients in a large mixing bowl and stir well with a fork until thoroughly combined. Pour into the prepared pan and spread into an even layer with a spatula, pressing on the surface to pack.
Bake for 25 minutes, until the top is set and lightly brown; don't overbake or the bars won't cut neatly. Let cool completely. Lift from the pan and, using a sharp chef's knife, cut into eight bars.
These keep for a couple of weeks in an airtight container at cool room temperature.
Notes
https://cnz.to/recipes/breakfast/granola-bars-recipe/
Unless otherwise noted, all recipes are copyright Clotilde Dusoulier.