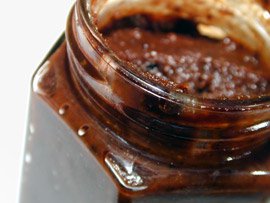 The great thing about bringing food souvenirs back from your vacation — besides choosing them, buying them, fitting them somewhere in your already overbulging suitcase, hoping and praying and crossing your fingers that they don't break/shatter/squish/smoosh/leak — is that it prolongs the magic indefinitely as you savor your goodies, little by little, over the next days, weeks and months.
I have a definite weakness for all things sweet and spreadable (as some people who share cabinet space with me are painfully aware) and I always seem to lug back herds of jars from my peregrinations.
This invariably leads to private moments of breakfast happiness, as I sit on my bar stool, pop the jar open, discover the color and texture which I had so far only guessed at through the glass, spread it on toast, take a bite, and mmmh… relish the taste, congratulate myself on the purchase, and munch contentedly away.
What we have here is a jar of walnut jam from the Périgord. Walnuts there are taken as seriously as ducks and ceps, so much so that La Noix du Périgord is protected by her own personal AOC (Appellation d'Origine Contrôlée, a certification of origin). This jam is made of sugar (55%) and walnuts (45%), nothing else. And this is all it takes to get you this fabulous, grainy, dark and intensely flavorful spread, so fragrant it almost smells like liquor.
A sweet mouthful of Périgord to last me through fall, making up for the increasing darkness at breakfast time.
Les Coquilles du Périgoud
La Mouline
24250 Grolejac
05 65 41 48 70