The Shangri-La is a chic hotel in Paris' 16th arrondissement, a short walk from the Palais de Tokyo and the lovely Président Wilson greenmarket.
For some reason, it's not the most talked-about of luxury hotels in Paris, yet I've been invited a couple of times to eat at their gastronomic restaurant, L'Abeille, and also at their more casual restaurant, La Bauhinia, and I've been sincerely impressed with the quality of the cuisine and the outstanding service.
The hotel team is also quite inventive with the events and special offers they create, and they recently issued an exclusive guidebook, highlighting 10 Parisian Walks for you to explore the city's most charming neighborhoods and discover hidden gems. It's a slim little book that you can slip right into your pocket as you go on your self-guided tour of Romantic Paris, Historic Paris, Kid-Friendly Paris, and seven more themed itineraries.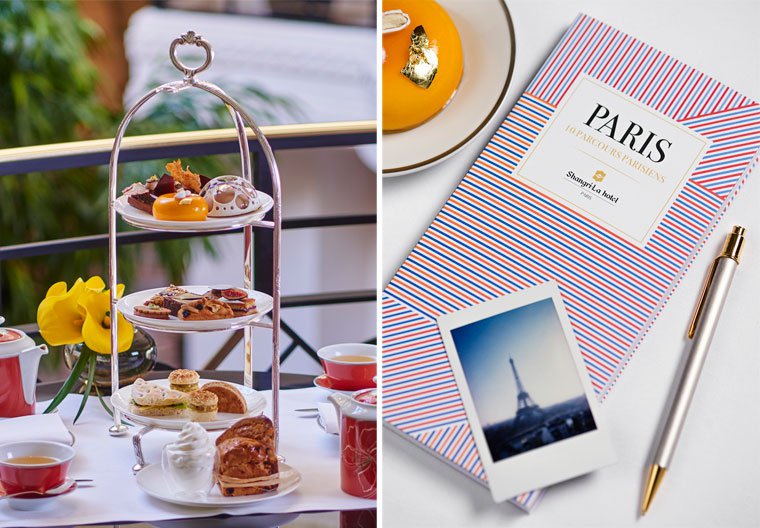 This guidebook is normally reserved for customers of the hotel, but! I was so enthusiastic about it I wanted to make it available to you, and asked if we could put together a giveaway. They said yes, and this is how I'm able to offer this generous prize to you.
If you win, you will be invited with the person of your choice to enjoy the Shangri-La's Vegan Afternoon Tea under the bright glass ceiling of La Bauhinia. You'll indulge in the amazing pâtisseries and mini-sandwiches created by talented pastry chef Michael Bartocetti, and leave with your very own copy of the Paris Promenade guidebook — in English or in French, as you prefer. (This is a 120€ value.)
To enter, please fill in the form below before Wednesday, May 4, midnight Paris time. I will draw a name randomly (if you're curious this is the service I use), and announce the winner here the next day. Please note that you will have a year to benefit from this offer (or have a friend use it on your behalf). Good luck to you!

We got a winner!
The winner of this giveaway is Nancy W. (email: nw******an@gmail.com). Congratulations, Nancy! You should have received an email from me with instructions. Please contact me if you haven't. And thank you to all the other participants for your enthusiasm!
Photo credit: Roméo Balancourt (guidebook photo) and Bernhard Winkelmann (tea time photos).