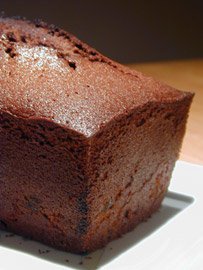 On Sunday afternoon, we had a few friends over for the goûter. In attendance were : Marie-Laure and Ludo, with whom we had had brunch earlier in the day ; my friend Sophie, who used to work at my company ; Stéphane and Caro, who are friends from college ; and our neighbors Stéphan and Patricia. To feed this crowd, I wanted to make something chocolate. I know, I know, I surprise myself too, sometimes.
When Pierre Hermé's Chocolate Desserts cookbook came out, one of the magazines I read had an article that published four of them : they don't quote the book word for word, they just give the recipe essentials, which still makes the book worth buying, as Pierre Hermé always gives very detailed instructions. All those recipes looked great, but you have to make choices in life, as hard as they may be. So I set out to make the apricot and ginger chocolate cake.
Language note : in French, the word "cake" (which is pronounced more or less like "kek") means not just any cake – that would be "gâteau" – but a cake that's baked in a loaf pan.