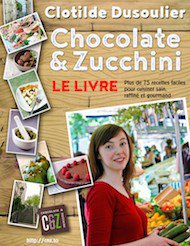 Do you read French? Are you a student of the language? If so, this one's for you!
Chocolate & Zucchini : Le Livre is the e-book edition of my very first cookbook, translated into French by yours truly.
The French edition was first published by Hachette, but it had been out of print for a while. That always made my heart sink: it's a book into which I've poured all of my soul, and many of my cult recipes, the kind you make again and again, and pass on to your sister and your friends, who later tell you, "You know, that mustard chicken of yours? I make it ALL THE TIME!"
This is why I decided to bring it back to life as an e-book — after a thorough re-reading and re-formatting effort — and I am now offering it for 8€ ($9), for immediate download on Amazon or the secure platform e-junkie.

Don't read French? Get the original English-language edition of the book, complete with my soul and cult recipes! It's called Chocolate & Zucchini: Daily Adventures in a Parisian Kitchen.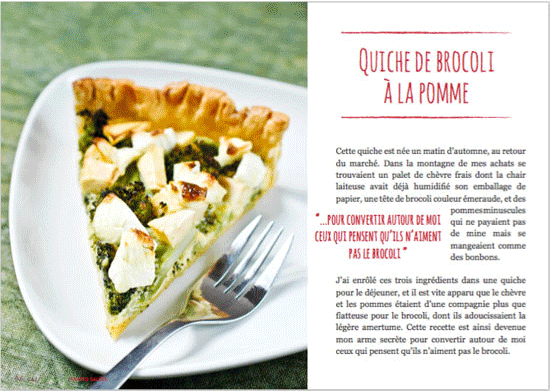 What the press has said about the book
The Chocolate & Zucchini cookbook provides a glimpse into the life of a young Parisian as she savors all that the city has to offer and shares her cooking philosophy in the form of more than 75 recipes that are, as the LA Times called them, "simple, charming, and fun."
"Dusoulier is the Parisian friend we all wish we had. [Her] voice is boisterous, spirited, delightful and entirely forgiving." — New York Times Magazine
"Dusoulier's zesty approach to shopping for, cooking, and presenting French food is entirely appealing. Her recipes are inventive rather than eccentric, and her enthusiasm for the pleasures of the table is infectious." — Gourmet Magazine
"Clotilde Dusoulier brings an engaging new voice to home cuisine." — Vogue
The French edition was nominated for Best Translation in the Gourmand World Cookbook Awards.
Recipes include:
Pan Bagnat Sandwich
Onion and Cumin Quiche
Gratinéed Chicken Soup with Pink Peppercorns
Walnut, Pear, and Roquefort Madeleines
Mustard Chicken Stew
Hand-Cut Steak Tartare
Roasted Ratatouille
Chocolate Raspberry Cake
Lavender Apricot Compote
Blueberry Amandine Tart
Very Chocolate Cookies
What French readers say
"Un livre frais, vrai !"
"J'ai adoré ce livre qui se lit comme un roman."
"Un livre d'histoires de recettes qui fait rêver et qui donne faim !"
"Des recettes simples mais originales et qui font mouche."
"Un livre génial à dévorer de pages en pages."
"Comme pour un excellent polar, j'ai eu envie de lire sans m'arrêter tellement c'était vivant, plein d'astuce, de conseils et… de saveurs à découvrir."
"Authentique, fiable, et chaleureux."
"Le livre reflète totalement l'esprit du blog : sucré et salé, émouvant et drôle, curieux et ouvert, humble et exigeant."
"Des recettes pour tous les jours, des recettes pour recevoir, pour pique-niquer… Un livre très complet."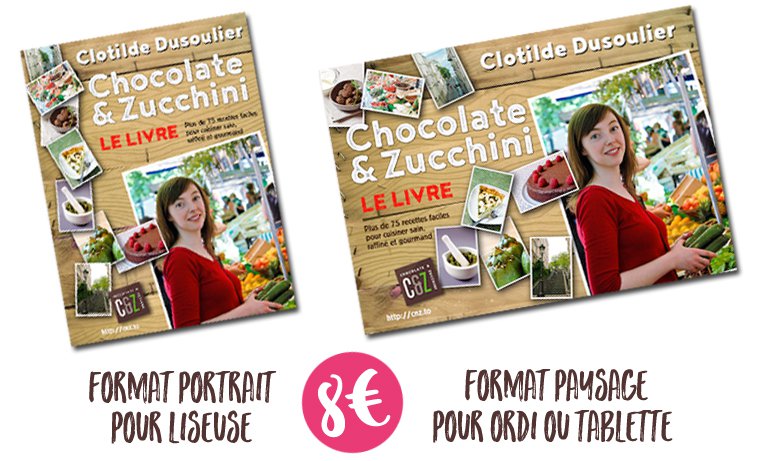 If you read books on a Kindle, you can buy "Chocolate & Zucchini : Le Livre" directly on Amazon.
For other e-readers, or to read on a tablet or a computer, download "Chocolate & Zucchini : Le Livre" through the secure platform e-junkie.

Prefer to read in English? The original English-language book is available under the title Chocolate & Zucchini: Daily Adventures in a Parisian Kitchen.
Have you read and enjoyed "Chocolate & Zucchini : Le Livre" ? Become an ambassador today and split the sales with me!