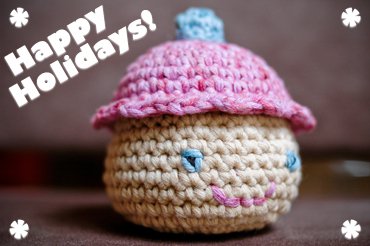 I have recently learned to crochet for the sole purpose of making amigurumi — Japanese-style crocheted or knit toys — and you are looking at my very first project, which is supposed to be a cupcake, after Nimoe's lovely pattern.
This is my way of wishing you a joyful and delicious holiday season, and it should give you a hint as to what I plan to do with my free time in the coming days, in between last-minute errands and a little baking: I have offered to bring dessert for Christmas lunch and I have a rough idea of what I want to make — I'm picturing a light entremets garnished with raspberries and a fromage blanc mousse –, but I have some thinking and researching to do, to make sure our family gathering does not end on a cake wreck.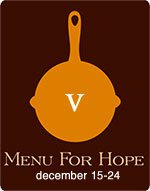 I would like to remind you that our Menu for Hope fundraising raffle, which will benefit the school lunch program in Lesotho, is running until December 31. Please consider donating what you can — even $10 will make a difference, and will give you a chance to win one of the fantastic prizes food bloggers around the world have contributed to the cause. Such raffle tickets make fun stocking stuffers, too! Here is more detail about how it works, and a description of the three prizes I am offering: books! lingerie cookie cutters! reusable shopping bags! you know you want them!
If you are looking for more gift ideas — aren't we all? — you may find inspiration in the C&Z store and this related topic on the forums.
And if you are still putting together your holiday menu, or figuring out what to contribute to your aunt's/mother's/generous host's, here are some recipes to consider from the archives of Chocolate & Zucchini:
Christmas recipes from the archives:
~ Aged gouda and dried pear scones,
~ Beet soup with anchovy-walnut paste,
~ Butternut squash and vanilla soup,
~ Mâche salad with endives and beets,
~ Warm squash and white bean salad,
~ Broccoli and cornmeal upside-down cake,
~ Cauliflower gratin,
~ Spiced carrot oven fries,
~ Chocolate and pineapple jelly,
~ Flourless orange and ginger cake,
~ Flourless poppy seed cake.
And if you're looking for easy edible gifts, check the discussion on the forums, and these recipes:
~ Coconut macaroons,
~ Chestnut pecan biscotti,
~ Florentins,
~ Very ginger cookies,
~ Homemade tisane,
~ Shortbread,
~ Hazelnut and pepper cookies,
~ Rose and chocolate marshmallows,
~ Chocolate-dipped dried pears,
~ Almond lemon curd.