Carrés de Noix de Pécan à la Vanille
Yesterday was my grandmother's 92nd birthday. On this occasion, my parents, myself, and a few friends and relatives gathered at her place for a celebratory drink, before we all headed out to dinner. My mom had asked me if I felt like making a few sweet nibbles to go with the champagne. Me? Sweet nibbles? Have I ever *not* felt like making sweet nibbles? Ever? Not that I can remember! So I accepted, with glee.
After a happy leafing through my bounteous collection of cookbooks, magazine clippings, and saved web recipes, the winner of the day was this recipe, found in the excellent cookbook Mes Petits Plats 100% Naturels: Vanilla Pecan Squares. Easy breezy and scrumptious.
The texture of these is lovely: cakey, but airy and light, with slightly crunchy edges. They are not too sweet, the vanilla flavor is nicely present, and matches the toasted and crunchy pecans beautifully, with a subtle rum afterkick. Interestingly enough, a slight almond flavor comes through as well, though there is no almond at all in the recipe.
The book recommends those squares to accompany vanilla ice cream, which does sound good. They tasted great with tea , as we taste-tested them earlier that afternoon, and were perfect with a cup of champagne.
The recipe also seems like a very good basis for variations : next time I will try replacing the vanilla with some other extract or with lemon zest, using other nuts, such as almonds and walnuts, or topping the squares with chocolate chips or raspberries.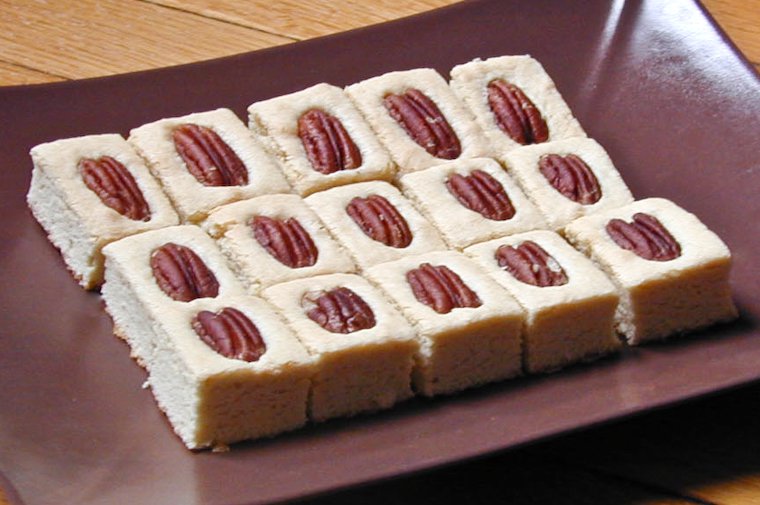 Have you tried this? Share your pics on Instagram!
Please tag your pictures with #cnzrecipes. I'll share my favorites!
Vanilla Pecan Squares Recipe
Ingredients
150 grams (3/4 cup) unrefined blond cane sugar
2 large organic eggs
80 ml (1/3 cup) neutral-tasting oil
2 teaspoons vanilla extract (I used the essence we brought back from the Seychelles)
1 tablespoon dark rum
200 grams (1 1/2 cups) all-purpose flour
1/4 teaspoon salt
100 grams (1 cup) pecans (about 42 pieces)
Instructions
Preheat the oven to 180°C (360°F) and have ready a square 20-by-20-cm (8-by-8-inch) cake pan, either nonstick or lined with parchment paper.
In a food processor, mix the sugar and eggs until pale and fluffy.
Add in the oil, the vanilla, and the rum, and mix again.
Add in the flour and salt, mix again. The batter will be thick.
Pour into the pan and even out the surface with a spatula. Place the pecan pieces regularly across the surface (you can do 6 rows of 7), to make it easier to slice later.

Bake for 15 to 20 minutes, until the top is lightly golden and the pecans are fragrant (keep an eye on them, they'd be the first to burn).
Let cool for 5 minutes, and cut into squares (actually, they'll likely be rectangles more than squares).

Lift all the squares carefully from the pan, arrange them on a cookie sheet and return to the turned off oven for 30 minutes, so the edges dry out a bit. Let cool completely before serving.
https://cnz.to/recipes/cookies-small-cakes/vanilla-pecan-squares-recipe/
Unless otherwise noted, all recipes are copyright Clotilde Dusoulier.