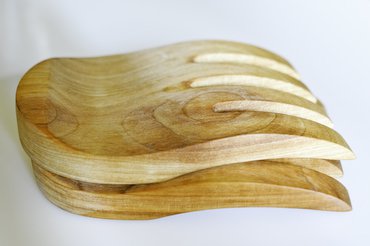 This post has been eight years in the making.
Eight years ago, Maxence and I visited friends in London. On the night we arrived, Zoe made lasagna and a big green salad, which she proceeded to toss in the bowl using two gorgeous wooden instruments, shaped like four-clawed bear paws.
If this had been a cartoon, you would have seen me hypnotically drilling my gaze into her hands, red and white spirals spinning in my eyes. "Where does one find those?" I asked, hoping they were a London treasure I could hunt for. "Oh, the bear claws? I got them as a gift back in the US," she explained. If this had been a cartoon, you would have seen the balloon of my hopes deflating with that elegant sound balloons make when they deflate, and falling, a limp rubber thing, to the ground.
Ah well. This did nothing to detract from the pleasures of the London weekend, and I put the bear claws out of my mind.
Fast forward eight years, and I found myself spending time in Canada, in Stratford, Ontario to be exact. And on my very first day there, while walking around the city center, my eyes locked with a stack of the long-yearned-for utensils in the window of a Canadian arts and crafts shop.