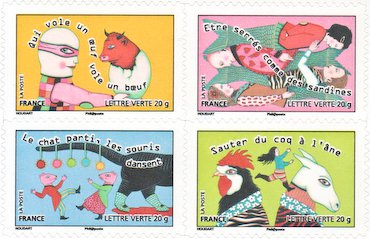 A few of my favorite finds and reads for March:
~ Interested in community composting in Paris? The mairie can help.
~ French stamps with illustrated idioms (more French idioms).
~ The Washington Post's food editor comes out as a vegetarian.
~ The Scared is scared, a video made according to a six-year-old storyteller's specs (warning: this will make your day).
~ Paris restaurants cooking local ingredients can now get a special label.
~ I gave tips on French restaurants for the Weight Watchers website.
~ How writers can prepare for the rise in using mobile phones to read websites and blogs. (Note: Chocolate & Zucchini is available in a mobile-friendly version.)
~ This year's skiing season in Montmartre.
~ Economics professor finds a strong link between optimism and how many fruits and vegetables one consumes.
~ Sheep to help keep Paris lawns tidy.
~ The Helsinki bus station theory for creative careers.
~ Impressive: how Cassie Johnston preps food for the week.
What about you, any recent find you'd like to share ?