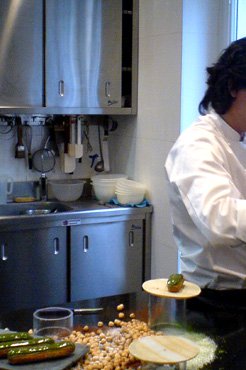 Let me tell you this: girls aren't what they used to be. Present them with a spiffy British actor who knows how to bake an apple crumble, and they will smile, shake the actor's hand (twice), and walk away with a good story, yes, but their heart unstirred.
Allow them to spend half a day with a famous pastry chef, however, and you will get a rather eloquent embodiment of glee.
This opportunity was brought to me on a dessert plate by my friend Louisa: she was in Paris with a television crew to film an episode for the upcoming season of Diary of a Foodie, and she asked if I'd be willing to appear in the segment on Sadaharu Aoki.
At this point, I feel compelled to state that I am vehemently opposed to the use of the term foodie, a word that makes me cringe so deeply my fingers refuse to type this combination of letters and I have to copy-paste it. But I love Louisa, I had met part of the crew last summer, and hanging out with them in Aoki's lab while he showed us stuff sounded like a fine use of my time, so I said yes.
And indeed, a terrific afternoon it was: my role was simply to be curious, ask the chef about his work, his pastries, and his creative process, and translate our exchanges from French to English for the camera.