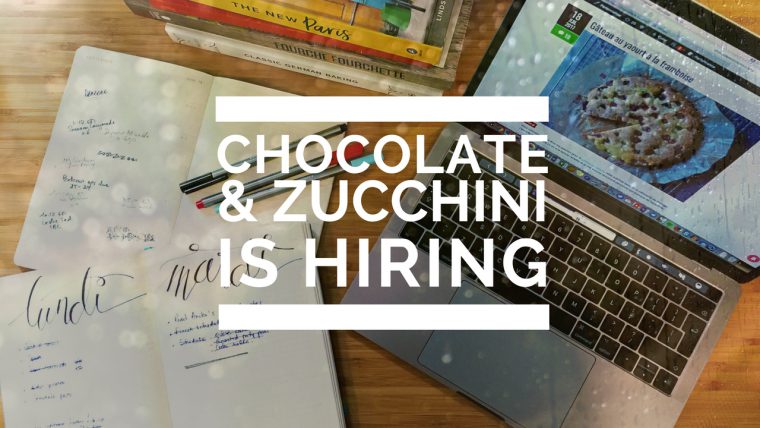 To help me manage and develop Chocolate & Zucchini and my podcast Change ma vie, I am thrilled to be opening an internship position as an development assistant.
This is a 6-month internship based in Paris starting in October 2017.
Note: For legal reasons, I can only consider applicants who can obtain a convention de stage (French internship agreement) from their school or university.
Internship Description
You will be working with me on the following, on both the blog and the podcast:
– Editorial work: scheduling, preparing, developing, and promoting content
– Social media and community management
– Researching and devising development strategies for the site and evaluating opportunities
– Sponsor outreach and partnerships
About the ideal candidate:
– Friendly, enthusiastic, curious, creative, self-motivated, reliable
– Passionate about cooking and about personal development
– Fluent in the blog/online world and social media
– Avid reader and podcast addict
– Excellent spelling and writing skills
– Fluent in English and in French
Work Environment
You will be joining a welcoming and fun work environment where no two days are alike. I offer a rich professional experience where your talents and skills will have daily opportunities shine, and you will have room to grow in the areas that interest you the most.
The editorial assistant internship is based in Paris. You will be working both in the 9th (Pigalle) and remotely with flexible hours. The volume of weekly hours (part time or full time) can be tailored to your availability.
This is a paid internship; a convention de stage from your school or university is required.
Your Application
If you're interested, please send me a message at cnz-jobs@cnz.to to explain why you're uniquely skilled for this position, and attach your resume. Please provide links to your website or blog if any, and your Instagram, Pinterest and/or Twitter accounts if you have them.
Thank you for your interest!