Bonjour Avril!
Chocolate & Zucchini newsletter // April 2017 edition
If you have difficulties viewing this email, you can read it in your browser.
If you're not already a subscriber, SIGN UP to receive the next edition of the C&Z newsletter for free!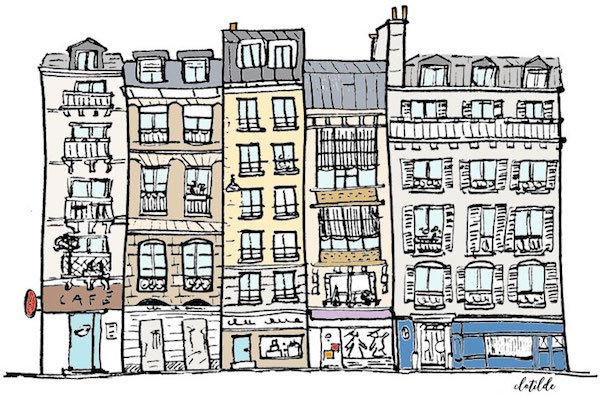 • Spring has sprung, travel season has begun in earnest, and I am doing more of my private walking tours. A highlight this past month has been to host a newlywed couple with a unique and wonderful story: they were high-school sweethearts, then life took them separate ways, and some thirty years later they reunited and got married.
They were the loveliest of people, and the tour was made even more special by a friend of theirs, who got in touch with me to secretly arrange for me to buy them a gift of goodies (Champagne was involved) on her behalf during the tour. It was so fun and heartwarming to plot this for them, print out the friend's note, surprise them with the gift, and take pictures.
To inquire about your very own private tour, just hit reply and we'll talk!
• For my monthly museum challenge, I went to the Musée de la vie romantique, where entrance is free to see the permanent collection. My favorite thing to do is stand by the windows upstairs, look out at the courtyard and the trees, and pretend I live in this gorgeous hôtel particulier. (This museum is part of my Romantic Paris Mini-Guide which you can download for free!)
We also went with our kids to see Électromécanomaniaque at Halle Saint-Pierre, an exhibition of Gilbert Peyre's work: this French artist builds mecanical and pneumatic installations from junkyard finds. It is a unique blend of poetic and batty, and children are positively mesmerized. The exhibition is on until April 23; go if you can !
• Also : I'm about to launch a podcast! It's in French and it's called Change ma vie : Outils pour l'esprit ("Change my life: Tools for the mind"). It will be about our inner lives, the power of thoughts, and how to feel really well. I have studied these subjects with increasing passion over the past years, and what I've learned has changed my life so much I wanted to share with others. The podcast will launch on April 27, and if you're looking to add more French to your life, what better way? Sign up for the newsletter to be notified when it's up; you'll receive a little welcome bonus as well.
• On heavy rotation lately is Katy Goodman and Greta Morgan's Take It, It's Yours, an album of pop covers of punk standards.
• After taking Teela's excellent Bounce Lettering online course, I graduated to her Fantastic Flourishes course. If you are, like me, a fan of hand-lettering and bullet journaling, I'm pretty sure you'll love it.
• My friend Lindsey Tramuta is about to publish an important book called The New Paris, and if you pre-order before April 18, she will send you an exclusive and beautiful print you can frame and hang somewhere over your desk. All details here.
• As my poem of the month, I memorized À M. V. H., a poem written by Alfred de Musset (a romantic poet, incidentally) for his friend Victor Hugo; the title means "À monsieur Victor Hugo". It's a poem about old friends and wisdom, and it's interesting to think that Musset talks with an old man's frame of mind, even though he was just forty when he published it. My son loves that it talks about candy.
(March 23, 2017)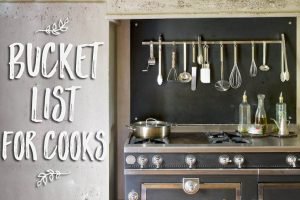 Do you know about the bucket list, also called life list? The idea is to list all the things you would like to accomplish in life*. It's an amazing exercise to do — on your own, as a couple, or with friends — because it says a lot about your […]
(March 21, 2017)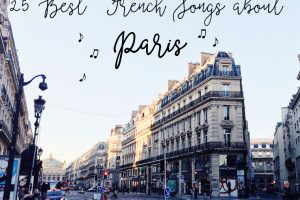 As I was putting together the chapter openings for my upcoming cookbook Tasting Paris, I was inspired to illustrate each with a few lines from a beautiful French song about Paris. (I've got to admit, I'm pretty pleased with this idea; I hope my editor keeps it in.) Wanting to […]
(March 16, 2017)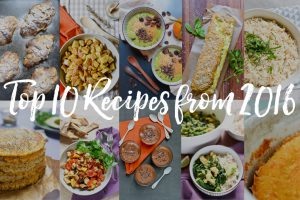 I love that you, my dear readers, keep me on my toes. I share posts and recipes that I hope will interest you, but I can never predict how they'll be received. Just like with love, a little mystery keeps the passion alive. But after the fact, there's Google Analytics, […]
(March 14, 2017)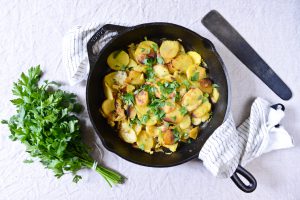 Have you ever visited the Périgord, that gorgeous region in the south-west of France? It is where Maxence's grandfather lives, and we have visited many times over the years. We are drawn back again and again, not just by the adorable stories Grand-Père tells of Maxence as a child, but […]
(March 7, 2017)
Did you know that France produces more than 350 types of cheese? Each variety is the unique result of a specific production method and aging process, requiring both technical skill and intuition. We talk about cheese a lot on Chocolate & Zucchini: we've covered how to shop for cheese and […]